01 Poptahof residency october 2009: The ideal man house
In a flat scheduled for demoltion in the neighbourhood ' Poptahof' in Delft, five artists invited by Anja started their 'ideal man project'. Anja Sijben, Ine Geraedts, Meg Mercx, Rob Verwer, Rob Visje, started discussing and fabricating work around the theme. Between the five, many knowledgeable and inspirational exchanges took place in the house.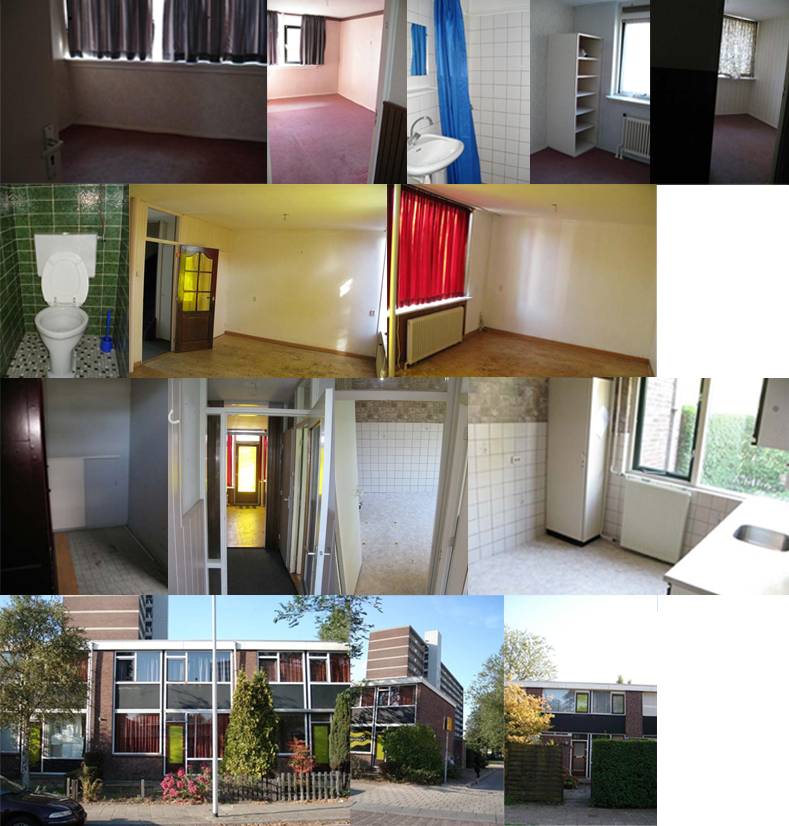 Poptahof, a typical area. Many skyscrapers and housekeeping with a colourful inhabitation from many cultural backgrounds. This was a trigger for discussion. Some artists were born in a similar neighbourhood, others had lived in such an area. And for others it was amazing how quiet it was, enjoyable with a small garden and green scenery, and the many community employees who cleaned the neighbourhood every day. We were astonished how clean this neighbourhood was kept. And how abandoned! Hardly anyone on the street. At a certain moment Anja went shopping in the mall opposite our house. There they were! Just like the Kalverstraat, the main shopping street in Amsterdam. Beautiful sun outside and the people sat on the terrace inside the covered mall….. For her the little garden meant being closer to nature then living in Amsterdam, but for them this nature obviously didn't exist or there was no need to enjoy the sun more, nor was fresh air needed. Remind her a little bit of Omaha, Nebraska, USA were she asked the local people whether there was something interesting to see at the other side of the river. Not really, they answered, the same shops are also closer by….Is the consumerism already that far that people only think in shops and outside this don't experience anything anymore?
If we are in Omaha or in Delft, were is the ideal man that defines his own goal and direction in life and doesn't let himself be influence by what is presented at him. A point of discussion in the ideal man house.
A short impression through the house and the works made during our stay.