about

Anja Sijben was born in 1966 and lives among others in Amsterdam, The Netherlands. She has exhibitions and her work is bought by collectors internationally.
She created ideal man installation for windows in Den Helder for Kunsthal45 2018/2019. People could reflect themselves partly in the drawn ideal men, but not completely, like in real live. You are never the ideal man you are longing for.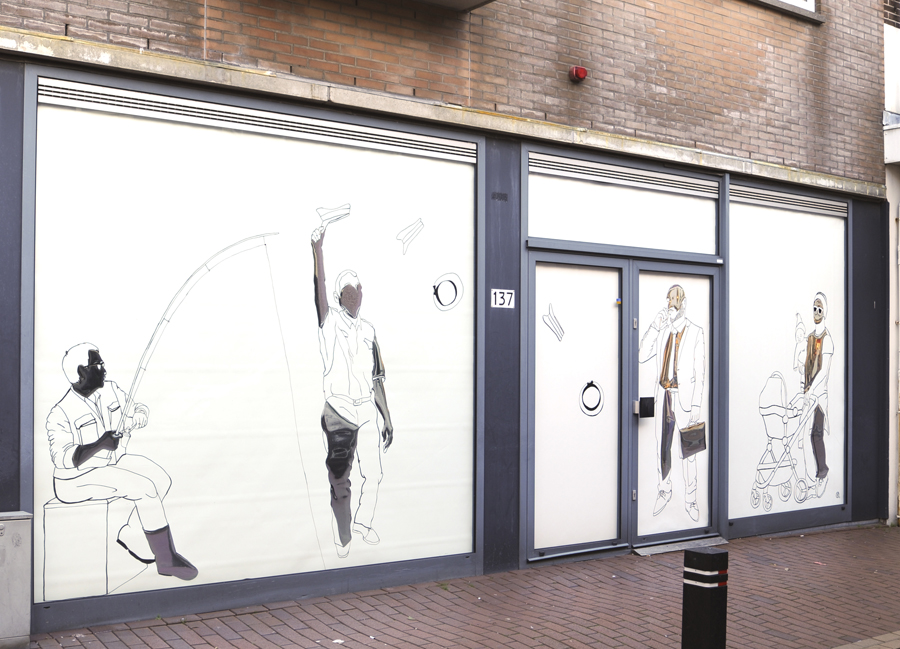 She participated in an art community festival in Lagos, Nigeria (2017). Here she developed together with people of the Iwaya community words about their ideal person in the area. The words came back in various ways in public places. Read the article about this residence in BK-informatie (in Dutch)
With 100 ideal man drawings she particitpated in the group exhibition Faktor X – das Kunst Chromosom – Haus der Kunsten, Munich (2017). Alex De Vries wrote an article about her drawings in Mistermotley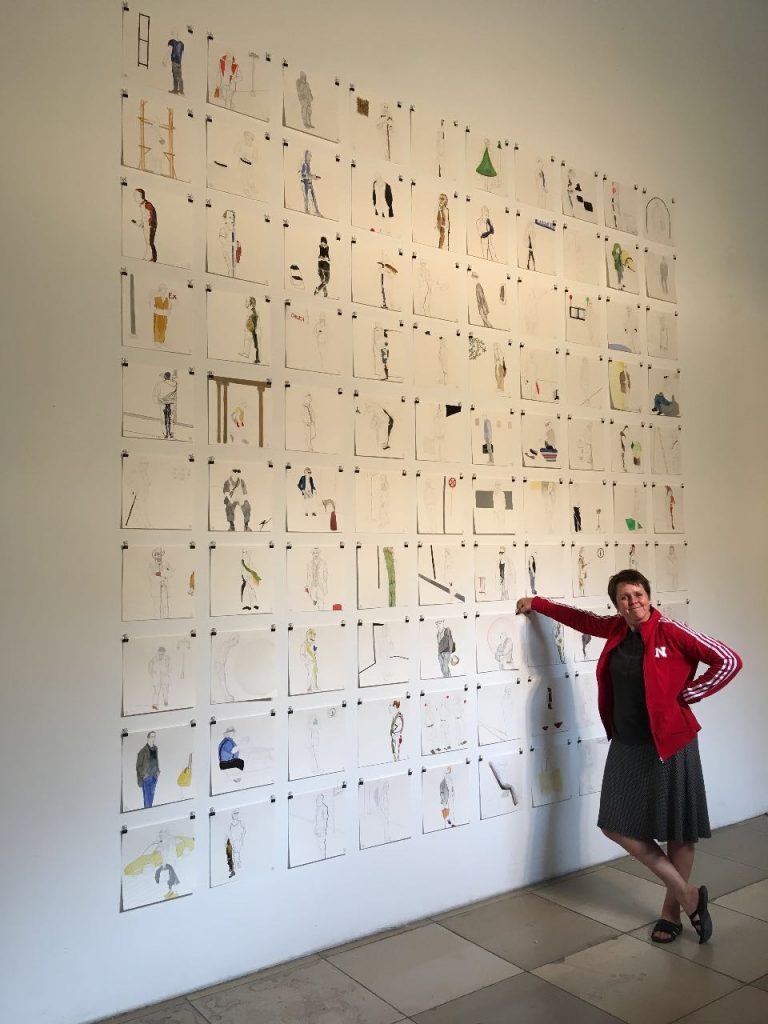 She created together with Markus Nilling a soundinstallation in a group exhibition Mitwelt 42103, Wuppertal, Germany (2017). 
She had a solo exhibition in the Garden of the Zodiac Gallery in Omaha, Nebraska, USA (2016).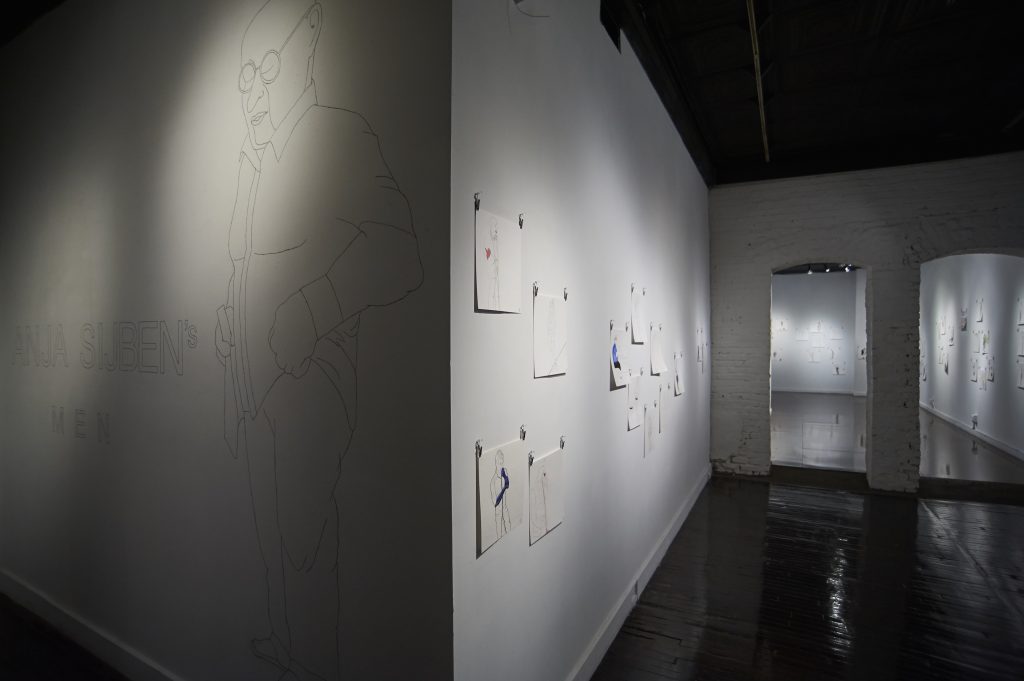 She published the book 'the ideal man' december 2014, a collaboration between 10 artists, and 11 academics and field specialists. In this book various individual views of the ideal man theme are represented.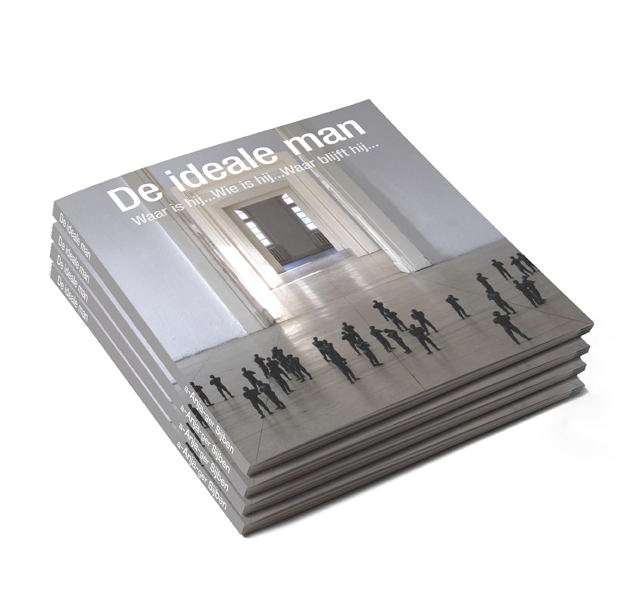 She organized residencies of 'the ideal man' in ID11 Delft (2009) and Artoll (Bedburg Hau) (2011). (Photo: Milan Gies)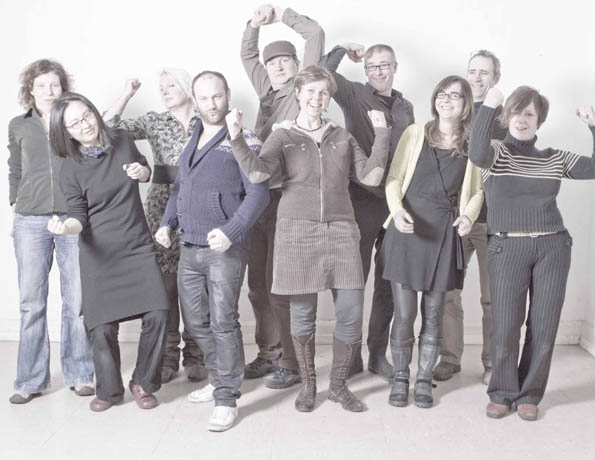 Since 2005 she is curator for the 12 Cleerdin & Hamer windows, inviting artists to develop soloshows. www.vdhp.blogspot.nl
She develops creative workshops for employees. www.exima.nl
PUBLICATIONS
BK- informatie 2018 Lagos, een stad om te ervaren
Mister Motley 2017 FaktorX – Alex de Vries
Mister Motley 2016 de ideale mannen van Anja Sijben – Alex de Vries
Metaal (Magazine for metal development) of July 2009 she is mentioned as one of the artists who developed a wall-mold for the architecture industry.
PI (magazine Project & Interieur) of april/may 2004 and june/july 2004 you can find two published articles about the whispering spaces in Gap Gemini in Utrecht.
AWARDS
Ortelius Drew Sketchbook Prize 2011 – honorable mention
EXHIBITIONS/LECTURES (selection)
2021
"fifty – fifty" group show curated by Marja van Putten and Astrid Moors, playroom, Zaandam
The verdict – missionchapel, Heythuysen
2020
the child, he/she, faces-windows- vdhpexhibitions, Amsterdam
2018/2019
Ideal man reflections- windows- Kunsthal45, Den Helder
2017
Ideals in Lagos – community art festival ICAF 2017, Lagos, Nigeria
Ideal Man Drawings – Faktor X – das Kunst Chromosom – Haus der Kunsten, Munich
Gruppe und Ich – sound Installation in collaboration with Markus Nilling, Mitwelt42104, Kunstverein Wuppertal, Germany
2016
"Herman" in the Ceramic Bienale at Mark Rothko Center, Daugavpils, Latvia
Garden of the Zodiac Gallery (solo) Omaha, Nebraska, USA
2015
zomerexpo 'Woest' gemeentemuseum, Den Haag
Auricoli da Rumore, Libreria Fratini editore, Florence, Italy
2014
Auricole da rumore, Mercato Saraceno, Italy
Art Zaanstad, Zaandam
2013
Tekenkabinet museum waterland zomerweken Purmerend
Poelenburg observaties, 26 drawings in public space, Zaandam
Behind the facade, one minute for 400 years Amsterdam Canals festival
2012
Thuisbasis – Poelenburg, Zaandam
The slade school of fine art, London – one minute 'imagine'
Windows 'van der helst plein', Amsterdam
2011
Ideal man project, Artoll, organizer and curator, Bedburg Hau, Germany
Diary Project, invited by Heather Allen, Berlin (online)
365 days of print, invited by Maya Joseph_Goteiner, New York (online)
Dumbo festival, Brooklyn
Jersey City University, NY
RESIDENCIES
ICAFLagos2017, Lagos Nigeria (5 weeks), Bemis Center of Contemporary Art, Omaha Nebraska, USA (1 month) 2016, Impruneta, Italy (1 month) 2014, Thuisbasis Poelenburg, Zaandam (4 months) 2012, Artoll, Germany (1 month) (organized 'ideal man' ) 2011, Wasserturm, Gelderen, Germany (1 month) 2010, Istanbul, Turkey (3 weeks) 2009, ID11, Delft (1 month) (organized 'ideal man') 2009, Artoll, Germany (1 month) 2009, Bemis Center of Contemporary Art, Omaha Nebraska, USA (3 months) 2008, Cesena, Italy (1 week) 2007, New York, USA (6 weeks) 2006, New Delhi, India (2 months) 2006